In the later part of the 19th century the
Aesthetes
would be inspired by the Pre-Raphaelites. Here is a cartoon from 1881 making fun of Aesthetes
For More information on Aesthetic dress go to
www.fashion-era.com
Here is some information about Aesthetic dress from fashion-era.com:
"Aesthetic Dress Fashion History
Aesthetic dress was a protest against the contemporary fashion for bustles in various forms and restrictive corsets.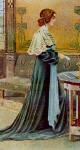 In fashion history terms only a very small section of the community ever wore it initially, but it did spread to middle class intellectuals, to artistic and literary people. Aesthetic dress was made of wool or Liberty silk or velvet fabrics.
Aesthetic fashions were cut looser and was unstructured in the style of medieval or Renaissance garments with larger sleeves. The dress appeared loose compared with figure hugging fashion garments of the era. Loose waited corset free women were considered to have loose morals and it did not help that many of the Aesthetic women were thought slightly Bohemian and beyond the normal social conventions and morals of the time.
Above Left - Dress from a 1905 Liberty catalogue.
The typical fashionable aesthetic lady would have red flowing hair often henna enhanced, a pale face, green eyes and wore heelless shoes. This model of aestheticism was frequently ridiculed in Punch cartoons where the wearer might be shown with her hair brushed into her eyes. The idea of red hair itself was ridiculed as red hair was thought of as social assassination."